Cornbread and Kugel
Our life in sweet home Alabama.
Sunday, December 9, 2012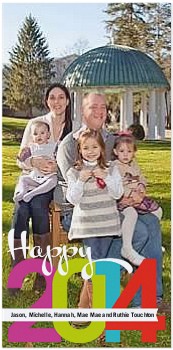 A Colorful Year New Year's

Saturday, August 25, 2012
With the summer coming to an end, we have welcomed new classrooms, new schedules, and new attitudes from Mae Michael. My sweet baby has, overnight, entered the terrible two's. We never experienced this with Hannah, so I feel like a fish out of water. I am not ashamed to say that motherhood has come easy to me. I can, and do, deal with every challenge I'm handed. But this, this is hard.
She changes from sweet and loving to screaming and fighting me in an instant, and then switches right back. The hardest time of day is in the morning. Because of Jason's schedule, I'm by myself in the morning. I have a system for getting all three girls dressed and out the door. This past week I have had to wake up thirty minutes earlier to accommodate for my struggling with Mae Mae.
I'm hoping that this new found stubbornness is just a vacation hangover, rather than the actual terrible two's. If not, we are in for a long year! Regardless, she is a cutie, and still melts my heart with her sweet "I uh oo's" (I love you).
She wanted to play "air-eee" (fairy) with me. She loves playing with Hannah's dolls and fairies.
Sorry, I have no idea how to work Robert's camera!
"I too cute, momma."
Posted by

Michelle
at 6:07 PM
No comments: